I will share my breakfast with you guys this morning, because it was so surprisingly good.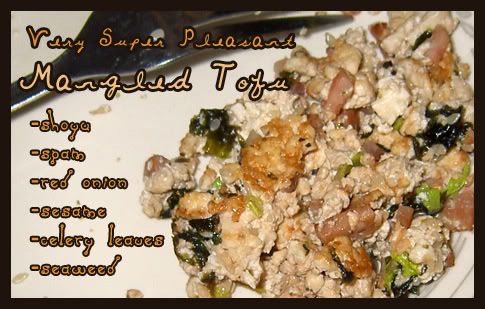 Sorry about the flash (ew) but my camera is still out :(.
Oh yeah, it makes a lot more than this. I just had eaten
most of it already. :)



Usually, when I go to the store, I buy 'Hawaiian tofu,' which is much more coarse than the other kinds. this time, all i could find was Azumaya Lite Tofu, so i bought it anyway. It has a pretty silky texture, but if you press the water out, it crumbles well. It can also be fried into sticks pretty nicely. Anyway.

I had about a third of this stuff left, so I cut out half of that (totalling... you got it... a sixth of the pack!).

I scavenged the fridge and took away two thinly sliced rings of onions (just two individual circles, not whole slices, you know?) and a thin slice of spam. I diced both of those things up (really small) and tossed them into a hotwarm skillet with some soy sauce.

after they were a little bit cooked, i set that pan on the back burner and smash/mixed my tofu up in a pyrex measuring cup with a fork. i then added a small plod (i guess about a spoonful) of sesame seeds, and mixed it up more. i cut celery leaves up and dropped them in, then crumbled some leftover korean seaweed into the mix as well. then i dumped the spam and onions from the skillet into the pyrex thing, and mixed them all up well. Go ahead and set the pan back on the hot burner.

After they were all mixed up, i dumped everything into the skillet and proceeded to cook it sort of like scrambled eggs-- brown until you like it (its not like anything in there is raw) and add a couple more drops of soy sauce.

MMM-MMM, SURPRISING!